Class Two: Year 1
Welcome to Year 1!
This half term our new topic is the Farming Fun!
During our topic we will learn about farms and what we need farms for and what grows on the farms.
In Geography we will be focusing on what farms are like around the world. We will discuss their similarities and differences to UK farms.
During music we will learn some songs about farms and the animals that live on them.
IT skills we will get the children familiar with using computers and logging on and learning how to draw and type on the computers about farms.
In Art and Design and D&T we will be creating lovely paintings and drawings of farms and their produce as well as making our own bread using the grains from a farm.
In RE we will be talking about God and asking the question 'Who do Christians say made the world?'
In P.E we will be looking at Dance and Games and Skills. P.E is on Monday and Friday, so please ensure that your child has their P.E kit with them for the whole week. Please could your child have black shorts and a plain white t-shirt and plimsolls for when we do P.E indoors. We will be hopefully be spending some of our PE sessions outside so to be prepared for all weathers, please can your child have tracksuit bottoms, a long sleeved top and trainers, for when we do PE outside.
Please can you ensure that your child has a waterproof coat with them everyday, so we can be ready for whatever weather!
Mrs Hall
To view the topic plan for Class 2 Year 1 click the link below: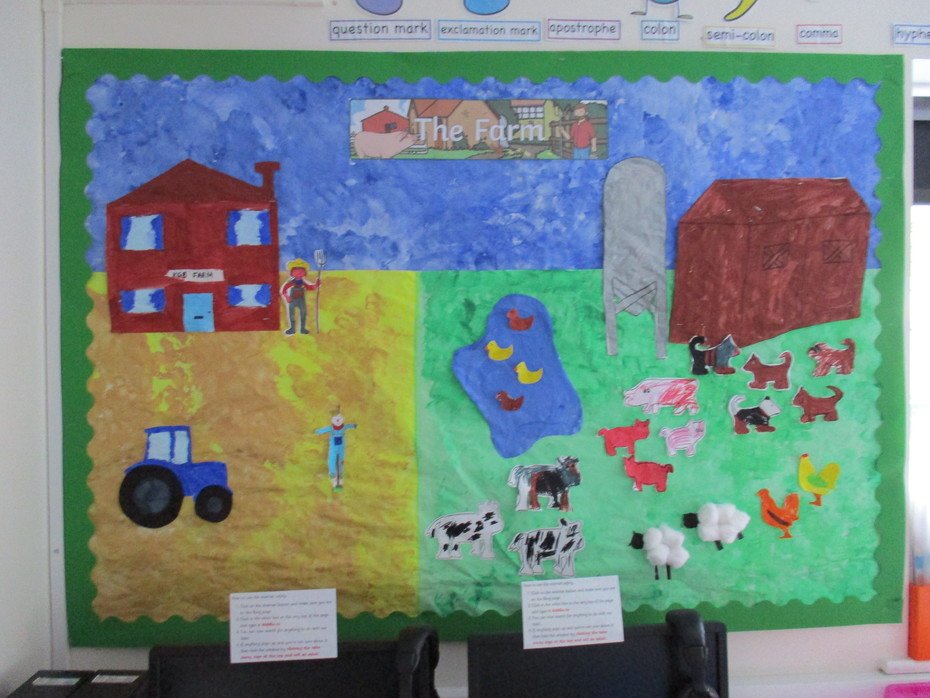 Our topic this half term is Farm Fun, in art we have worked with the Year Two's to create a farm collage.