More My Maths Added
Posted: Mar 31, 2020 by: Angela Walley (a.walley) on: Year 3 and 4 Class Blog - Home Learning
Hello everyone, I do hope you are keeping well and enjoying spending time with your families.
I have put some new My Maths activities on for you all to access. Again, I have put a longer date on them so you are able to try them again if you want to improve your scores. Don't forget the games that you can also access through My Maths.
Teachers are busy looking at a different way to set you work for after the Easter Holidays as we may have to stay at home longer than we all first predicted. We are looking at a computer platform at the moment and we will let you all know as soon as possible, what this is, what to expect and when this will happen.
In the meantime, keep working through your packs and being creative. I have loved seeing the photos of what you have been up to at home.
I would also like to you make something out of a plastic bottle.
(You could even make the bird feeder that we wrote instructions for in the last week, if you haven't already.)
Or something totally different! See what ideas you can come up with and send me some pictures to share on here.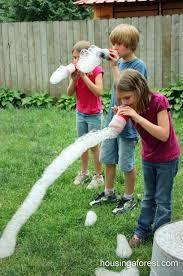 We made a bubble snake maker which was fun:
1) Cut the bottom of the bottle off. 2) Stretch a piece of fabric or a sock over this end and secure with an elastic band or piece of string.
3) Take the lid off bottle. 4) Dip the fabric end of the bubble maker into a tray of bubble mixture and blow!
TRY TO GROW A SUNFLOWER
Can you plant a sunflower? (If you have any seeds) We could have a competition and check on their progress.
If you don't have any sunflower seeds then try to grow something else or care for a house plant.
Keep up the good work Class 4!
Keep in touch as I'm missing seeing you all!
Mrs Walley